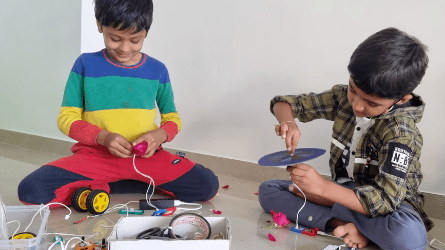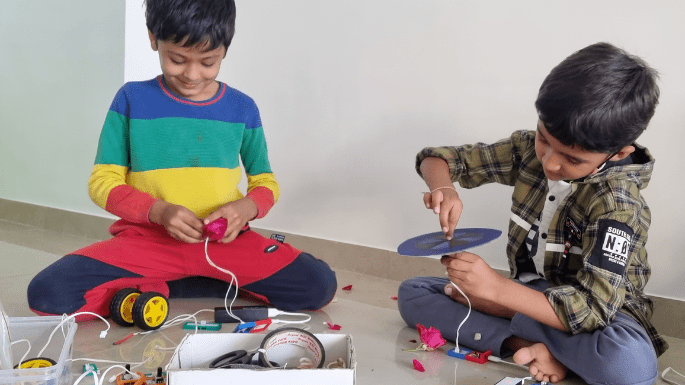 These days, STEAM programs have gained popularity amongst kids. Robotics is one such discipline that falls under the STEAM umbrella. For kids who have never tried it before, it provides them with an outlet for their creativity while keeping their minds active. Before we delve into other factors, let's understand what this discipline is about.
What are robots in simple words for kids?
A robot is a machine that does some tasks for us. Maybe that's the most basic definition of a robot. But let's decompose the definition of robot to better understand them.
– Robot is a machine.
– It is designed to do specific tasks for humans.
– It may or may not need human intervention to do a specific job.
– It may or may not be operated by a computer program.
– Robot would do the tasks with at least some level of autonomy. If it's a machine with zero autonomy it's just a machine and not a robot. In other words, robots need to have at least a certain level of "intelligence" to do the tasks.
– It may or may not look like a human or other animal. Need to clarify this as mostly we have seen robots in this form in movies.
Now let's understand this definition of robots using some examples. You can discuss the very same examples with kids and ask them to evaluate some other machines as well to decide if they are robots.
1) Hand blender
Is hand blender a robot? To answer this, let's check the definition point, one by one.
– Is it a machine? Yes it is.
– Does it do a specific task? Yes it does.
– Does it need human intervention? Yes it does.
– Is it operated by a computer program? No
– Does it do the tasks by itself? Actually not!
A hand blender is just a machine being used by a human but is not a robot.
2) Washing Machine
Ask the above questions one by one and you will finally realize that a washing machine is a robot. It has some level of intelligence. It can decide how much detergent it wants. It takes the decision of volume and temperature of water it needs. There are washing machines with even more intelligence.
So yes, a washing machine is a robot. OMG we had a robot in our home for years now!!
Is your two wheeler and car a robot? Is drone a robot? You decide.
What is robotics?
The field in which we study robots to make better robots is known as Robotics.
Now let's discuss some important questions related to robotics for kids which might be popping up in your mind.
Why teach robotics to kids?
1. Encourage curiosity and creativity
Robotics encourages curiosity and creativity in kids. Aside from developing crucial problem-solving skills, robotics can also be an excellent activity for stimulating creativity and a curious mind. Robotics gives your child a toolkit and challenges them to build something new.
2. Engages in problem-solving
Robotics has a problem-based approach, which is an applied discipline. It teaches kids how to solve problems given a toolkit, a skill that has applications in many places in life, including math and science.
3. Promote a growth mindset
Robotics also allows kids to use their minds towards creating things that are either a complete solution or a part of a solution. This is an important practice especially with the company nowadays being creator based.
4. Multidisciplinary Learning
The field of robotics is multidisciplinary, encouraging children to explore many disciplines at once while studying robotics, disciplines that majorly impact their STEAM learning.
5. Action-based Learning.
Robotics is a field that involves learning by taking action instead of just reading theory. This means that when your child is learning robotics, he/she is engaging in active learning.
It gives an outlet to their curiosity and creativity, while simultaneously developing their problem-solving skills.
"Robotics in itself can also be taken up a career path, which has many future jobs and much future scope."
At what age should kids start robotics?
Some children may be ready for robotics for beginners at age 6 while others would be best suited to start at age 8 or 9. You know your child best.
Some parents may be concerned about starting their kids into robotics too early.
Now, let's see it this way. Does your child know how to interact with Google Home or Alexa? Do you feel amazed these days, how children at the age of 2 navigate through youtube, while it still feels difficult for an aged person?
Kids are interacting with technology every day, through smartphones and smart devices in the house.
The critical and creative thinking skills that your child develops in robotics will stay with them well into adulthood- meaning they will be able to think through difficult issues on their own, like the next step to take in solving a problem.
How do we teach robotics to kids?
When we are speaking about Robotics and its importance, the next thought that occurs is, what should be done to teach this to the kids? This is also taken care of.
A robot has 4 different components.
1) Machine
The body of a robot. Working on craft projects, creating 3D shapes, bodies and objects using various craft materials should be a great starting point. This can go further to making motorized machines using components and DIY kits.
2) Electronics
Making circuits with Resistors, capacitors and transistors on a breadboard, soldering them on PCBs and understanding Arduino pin diagrams are not everyone's cup of tea. And in many cases kids do drop learning robotics after seeing all these.
Hence a good approach would be to give them robotic toys and kits like SnapCircuits and Havi Elements DIY Robotics Starter Kit. The beauty and easiness of these toys will attract and inspire kids to learn electronics. You can move to complex things after they develop interest.
3) Aesthetics
Any robot will have a design aspect in that. If your kids are interested in visual arts, you can channelize that passion towards robotics by asking them to paint a robotic toy like Havi Elements DIY Robotic Toy Car and play with it.
4) Intelligence
Here comes the coding. Instructing the robots to do things through computer programs.
I would recommend to let your kids experience all of these and then explore one or two discipline which interests them the most. Expecting them to do all of these at best would be too much.
Following are five things you can discuss about robotics whenever you get a chance.
Discuss automatic machines around you
You can begin teaching your kids by making them recognise activities where automation is being used in the current industries. Encourage them to recognise where automation can be applied now, or which activities can be given to a machine to do. Bring in relevant real-life examples such as escalators, smart taps or automated glass doors in malls/airports or other public/private places.
Discuss assistants
Discuss the concepts of robotic assistants such as Alexa, Google Home etc, their benefits, how it was before the technology and what they think can the domain of robotics include more to be of better assistance.
Movies
You can also involve various motion pictures as a part of your discussion such as Iron Man, where robotics and AI are shown.
Discuss Pros and cons of robots
Have open discussions about the good and bad parts of robotics and the benefits and disadvantages of machines and automation. Take references to Indian Movies such as Robot, where they brought the emotional aspect of robots.
Why is robotics important in the future?
Robots and AI keep the economy rolling. High-quality products can lead to higher sales, which means the company that uses technology like robots is more likely to stay alive and vital, which is good for the economy. In addition to improving quality, robots improve productivity, another key element to economic health.
Robots eliminate dangerous jobs for humans because they are capable of working in hazardous environments. They can handle lifting heavy loads, toxic substances and repetitive tasks. This has and will help companies prevent many accidents, also saving lives, time and money.
Conclusion
Robotics for kids is exciting and enjoyable and it does not limit their learning to a classroom. With robotics, kids can learn a lot about themselves and the world with the help of robotic learning. They can discover themselves and know what they like and dislike, what their strengths and weaknesses are. It allows them opportunities to improve various social skills like communication, teamwork and critical thinking. Robotics for kids can guide them to make their own future. Now, as parents/teachers, it's your time to bring that interest in your kids to develop a thoughtful future for them.
Also read
Learning in the era of ChatGPT
Enterpreneurship for kids | The complete guide